Advanced Client Systems 2016
The Advanced Client Systems program is the radically strengthened and upgraded version of the Coaching Prosperity School that has so many famous grads and has been training coaches in building prosperous practices since 2007.
It includes and transcends all the teachings and principles of the same Steve Chandler Coaching Prosperity School that has won rave reviews from such graduates as Michael Neill, Michelle Bauman, Rich Litvin, Stephen McGhee, Carolyn Freyer-Jones, Ron Wilder, Dusan Djukich and so many other of the world's best-known coaches.
This is a program in which people who already know how to coach come to learn systems…..systems for the acquisition and cultivation of clients, and the building of a prosperous coaching business.

Back by Popular Demand!

Reinventing Yourself Weekend is on its way — and this time it's coming to the gorgeous state of Colorado, May 20-22nd, completely reinvented by Executive Coach, Karen Davis and Zen Life Coach, Alex Mill.

I, myself, will have brand new material — hot off the press — and it will be one of the rare opportunities to see me present live this year as I work on my project, Death Wish.

The three of us (including some very special guests) will bring the house down with laughter, music, insights, and powerful, experiential REINVENTION!

Our special Early Bird rate is only available until Groundhog's Day (February 2) and seating is extremely limited. NOTE: We WILL sell out!

So do not tarry...

…this is an event you WILL NOT WANT TO MISS!

Read more and register here: www.reinventingyourselfweekend.com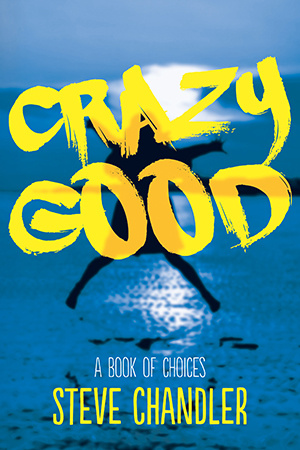 There's bad, there's good... And then there's CRAZY GOOD.
Steve Chandler's latest delivers a series of enlightening CHOICES we can make to have our lives soar FAR BEYOND anything we thought possible.
The hypnotized "I'm fine" life of "barely good enough" is revealed here to be thoroughly unnecessary - and easy to break free from.
The CHOICES Chandler gives us are clean, clear, simple to execute, and based on more than twenty years of training over thirty Fortune 500 companies and coaching hundreds of high-achieving individuals. This is Chandler at his best.
Choose NOW to create a life that's CRAZY GOOD.