Coming soon:
RIGHT NOW: Mastering the Beauty of the Present Moment

Steve Chandler's Right Now is his inspiring sequel to the brutally honest story of his addiction recovery, Death Wish.

With his characteristically short, impactful chapters strung together like a chain reaction, Chandler brings us back to the source of all creation and joy: the present moment. We are left not only with a deep appreciation of the beauty of the "now," but also with many highly-motivating insights into actions we can take RIGHT NOW that we used to think would take a lot of endless preparation and "inner processing."

Like his bestseller Time Warrior, this book was written to be an antidote to procrastination and worried obsessions about our negative imaginary future. Not only does the skill of living in the moment not make you a couch potato, it actually supplies you with energy you didn't know you had.

"I wrote this book during the most active time of the Death Wish project," said Chandler. "We had been shipping copies of that book to treatment centers, addiction counselors, prisons and schools and receiving heartfelt feedback on how a simple book can move people to see life from a place of greater hope and optimism. I wanted to write a book during that uplifting time in my life that expressed the hidden energy contained in the present moment...the infinite creative potential of it."

Based on his decades of experience as a corporate trainer and business coach, plus the improbable journey his own life has taken from addiction, divorce and bankruptcy, Right Now is short on theories and strategies but long on real world experience.

"I had actually decided after Death Wish to retire from writing," Chandler said. "I couldn't think of anything else I wanted to say. And there were more than enough books by me out there in the world. But one morning I woke up, and then woke up again. I had just dreamed of a book cover that said RIGHT NOW and I realized that I had to write it. The idea was simple: There are things you can do right now. And there's a joy you can feel right now."
"Death Wish…could not put it down until the very last drop.

A eulogy to be sung at ego's funeral. GOD, Good Ole Death.

'Wanting to thrive, to flourish, to expand upward and outward in a joyful spiral of release is evolutionary.'
Your book will help to evolve our species.

My soul is vibrating, and for that I thank you.

I am already giving your ode to the glorious life to friends, with the echo of my laughter and tears."

--- Dicken Bettinger


Death Wish:
The Path through Addiction to a Glorious Life
is now available on Amazon
Death Wish dives into addiction, death and suicide. Steve Chandler tells stories he has never told and tells the truth he's hidden inside himself. Chandler shares his own experience, strength and hope with those who are still confused and depressed by these forces.

This really is about a true death wish. And. . . how to have that wish disappear.


Advanced Client Systems 2017 / 2018
~ SOLD OUT ~
The Advanced Client Systems program is the radically strengthened and upgraded version of the Coaching Prosperity School that has so many famous grads and has been training coaches in building prosperous practices since 2007.
It includes and transcends all the teachings and principles of the same Steve Chandler Coaching Prosperity School that has won rave reviews from such graduates as Michael Neill, Rich Litvin, Stephen McGhee, Carolyn Freyer-Jones, Ron Wilder, Dusan Djukich and so many other of the world's best-known coaches.
This is a program in which people who already know how to coach come to learn systems…..systems for the acquisition and cultivation of clients, and the building of a prosperous coaching business.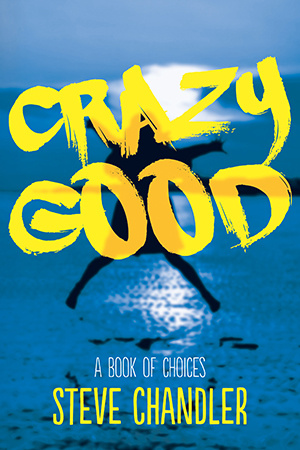 There's bad, there's good... And then there's CRAZY GOOD.
Steve Chandler's latest delivers a series of enlightening CHOICES we can make to have our lives soar FAR BEYOND anything we thought possible.
The hypnotized "I'm fine" life of "barely good enough" is revealed here to be thoroughly unnecessary - and easy to break free from.
The CHOICES Chandler gives us are clean, clear, simple to execute, and based on more than twenty years of training over thirty Fortune 500 companies and coaching hundreds of high-achieving individuals. This is Chandler at his best.
Choose NOW to create a life that's CRAZY GOOD.