Steve Chandler's Coaching Prosperity School
(yes, the ACS!) is now available as a video / audio masterclass!
How to Get Clients:
New Pathways to Coaching Prosperity

Now available on Amazon HERE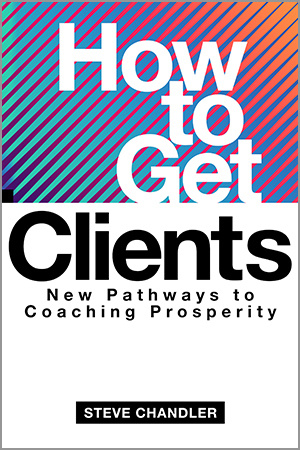 In How to Get Clients, Steve shares a set of operating principles that makes client acquisition a natural extension of the coaching process. When you embody these principles, which have been taught at Steve's renowned Coaching Prosperity School, enrolling clients becomes second nature—and an enjoyable part of a financially successful coaching practice.


Praise for How to Get Clients:

"Steve Chandler's How to Get Clients is one of the most important books you will ever read. It shows you how to fill your coaching practice in a way that doesn't require selling, marketing, or manipulating. You can be highly sought-after just by being more of who you truly are and by focusing on how to genuinely help others (whether they end up being your clients or not). I can't recommend a business book more highly. What's more, it's a darn entertaining and funny read."

~ Mark Levy, author of Accidental Genius


"How to Get Clients is THE operating manual for how to create a prosperous, sustainable and thriving practice. Having attended Steve's live Coaching Prosperity School five times and created a magnificent coaching business, I saw new insights and practices in this book that I am adding immediately, and which will help me and the coaches I serve grow to our next level. In Steve's storytelling there is an authenticity and transparency that provides hope and a roadmap to prosperity. A MUST READ for all coaches and consultants!"

~ Kamin Samuel, author of Increase Your Abundance Starting Today


"Simple, clear, direct! Steve Chandler has done it again with this powerful, practical book setting forth the basic operating principles that ALL prosperous coaches use to create clients. Any coach who is serious about running a thriving coaching business must read (often), test (repeatedly) and integrate these new pathways to prosperity."

~ Melissa Ford, author of Living Service


"Chandler's humor (which is the ironic type I like so much) comes through page after page. But the humor is just the wrapper for the undeniably rich content. This book is rich in 'how-to' live this and be a person of service. I know this book is intended for life coaches (and other types of coaches), but it is really for anyone who wants clients or sales orders or customers—or anything else they need but don't have in their world."

~ William Keiper, author of Untethered Aging


"Inside How to Get Clients Steve Chandler artfully shares a blend of beautifully written, real-world anecdotes with insightful client-creation principles that have helped launch the career of some of the most financially successful coaches on the planet today. If you truly want to master the art of selling without selling then read this book—cover to cover and in-between the lines—to take in priceless wisdom from THE ORIGINAL MASTER COACH. If you do this and practice what Steve offers, you'll create professional prosperity AND enhance every relationship in your life."

~ David Foster, author of Where's Dad?


"Steve Chandler's brilliant and entertaining use of humor to speak truth creates such clarity of understanding, you will experience a new level of clarity and freedom of thought about clients on every easy-and-fun-to-read page."

~ Andrew McKee, author of Change Your Game, Change Your Life

Is creativity reserved for a rare, chosen few—or is it alive in each of us, behind our every breath, our every heartbeat? In CREATOR, Steve Chandler takes us on a voyage of discovery, beyond labels and categories, to a revelation about the true nature of creativity. It is not just within us—it is us. CREATOR opens our eyes and hearts to a new way of being in the world. Wise, poetic, funny—and eminently practical—CREATOR is a lucid and joyful exploration of who we really are.
"This is Steve Chandler's best book yet. His stories are funny, engaging, thought provoking and inspiring and he helps us see that we are all connected through our energy and creative potential. He helps me see my relationship to my God-given creativity differently. The source of everything is always there for us to tap into at any moment. I have used this book to change my work, my relationships and my life."

~ Tina Quinn
Author of Invisible Things


"If the path to enlightenment is paved with the gold of insight, then Steve Chandler's book, CREATOR, is the Yellow Brick Road. Every page, paragraph, and even line, it seems, resonates with the truth that is within me and awakens me to a desire to create. To progress. To Be."

~ Andrew McKee
Author of Change Your Game, Change Your Life
"CREATOR is magic in print! I was completely captivated (and thoroughly entertained) by how Steve Chandler effortlessly floats between spiritually profound and real-world practicality and helps us navigate it all along the way. CREATOR breaks down the walls of our 'conditioning' (even his take on THAT concept created a big shift for me) and introduces us to a life made more prosperous, more fun, more fulfilling and more joyful through the always-available-on-demand power of our creativity!"

~ Jason Goldberg
Author of Prison Break


"CREATOR takes the reader on an adventure of the spirit-waking us all up to the creative joy of life. Through masterful personal storytelling, Steve Chandler enables you to see for yourself the light of creativity, in all of us, that shows up in the ordinary moments of our lives. Buckle up and experience this extraordinary journey of the human spirit, born from curiosity, love, and consciousness. You will be touched, moved, inspired and rediscover how magnificent and connected you (and we) really are."

~ Devon Bandison
Author of Fatherhood Is Leadership

NEW book:

RIGHT NOW: Mastering the Beauty of the Present Moment
Steve Chandler's Right Now is his inspiring sequel to the brutally honest story of his addiction recovery, Death Wish.

With his characteristically short, impactful chapters strung together like a chain reaction, Chandler brings us back to the source of all creation and joy: the present moment. We are left not only with a deep appreciation of the beauty of the "now," but also with many highly-motivating insights into actions we can take RIGHT NOW that we used to think would take a lot of endless preparation and "inner processing."

Like his bestseller Time Warrior, this book was written to be an antidote to procrastination and worried obsessions about our negative imaginary future. Not only does the skill of living in the moment not make you a couch potato, it actually supplies you with energy you didn't know you had.

"I wrote this book during the most active time of the Death Wish project," said Chandler. "We had been shipping copies of that book to treatment centers, addiction counselors, prisons and schools and receiving heartfelt feedback on how a simple book can move people to see life from a place of greater hope and optimism. I wanted to write a book during that uplifting time in my life that expressed the hidden energy contained in the present moment...the infinite creative potential of it."

Based on his decades of experience as a corporate trainer and business coach, plus the improbable journey his own life has taken from addiction, divorce and bankruptcy, Right Now is short on theories and strategies but long on real world experience.

"I had actually decided after Death Wish to retire from writing," Chandler said. "I couldn't think of anything else I wanted to say. And there were more than enough books by me out there in the world. But one morning I woke up, and then woke up again. I had just dreamed of a book cover that said RIGHT NOW and I realized that I had to write it. The idea was simple: There are things you can do right now. And there's a joy you can feel right now."
"Death Wish…could not put it down until the very last drop.

A eulogy to be sung at ego's funeral. GOD, Good Ole Death.

'Wanting to thrive, to flourish, to expand upward and outward in a joyful spiral of release is evolutionary.'
Your book will help to evolve our species.

My soul is vibrating, and for that I thank you.

I am already giving your ode to the glorious life to friends, with the echo of my laughter and tears."

--- Dicken Bettinger


Death Wish:
The Path through Addiction to a Glorious Life
is now available on Amazon
Death Wish dives into addiction, death and suicide. Steve Chandler tells stories he has never told and tells the truth he's hidden inside himself. Chandler shares his own experience, strength and hope with those who are still confused and depressed by these forces.

This really is about a true death wish. And. . . how to have that wish disappear.

There's bad, there's good... And then there's CRAZY GOOD.
Steve Chandler's latest delivers a series of enlightening CHOICES we can make to have our lives soar FAR BEYOND anything we thought possible.
The hypnotized "I'm fine" life of "barely good enough" is revealed here to be thoroughly unnecessary - and easy to break free from.
The CHOICES Chandler gives us are clean, clear, simple to execute, and based on more than twenty years of training over thirty Fortune 500 companies and coaching hundreds of high-achieving individuals. This is Chandler at his best.
Choose NOW to create a life that's CRAZY GOOD.
Friends,

I am very happy to announce a brand new daily video show I am doing with Jason Goldberg called The Not So Serious Life. Jason and I will answer viewers' questions on how to put creativity, fun and the spirit of play into our work and home life so that all our days can be successful and crazy good.

We also have all kinds of gifts and goodies for subscribers, and you'll get a short video episode daily, full of fun and unusual wisdom.......Jason is a very gifted life coach and comedic performer, and he and I are enjoying recording our first episodes....the Show itself launches August 10.....there is no charge to subscribe and receive our show.......

Just go here:

www.thenotsoseriouslife.com


Here's to the good life,

Steve
37 Ways to BOOST Your Coaching Practice
is now available on Amazon.com
Look for ways to touch the soul.
Remember what coaching's really about. It's about looking for ways to touch the soul, and having someone's life change.

Coaching simply can't be sold like other things are sold. And that turns out to be good news. Once you begin practicing true connection, you become successful.

In 37 Ways to BOOST Your Coaching Practice, Steve Chandler shows just what steps to take - and the 17 lies to avoid - to give your prospective clients a powerful experience of the work you do. Learn to fill your practice by moving beyond coaching-as-a-concept. Creating clients happens one coaching conversation at a time, one true connection at a time.