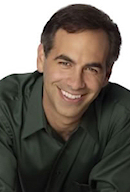 Michael Neill is an internationally renowned success coach and the best-selling author of You Can Have What You Want, Feel Happy Now! and the Effortless Success audio program. He has spent the past 20 years as a coach, adviser, friend, mentor and creative spark plug to celebrities, CEO's, royalty, and people who want to get more out of their lives. His books have been translated into 8 languages, and his public talks and seminars have been well received at the United Nations and on five continents around the world.
He hosts a weekly talk show on HayHouseRadio.com®, and his newest book, Supercoach: 10 Secrets to Transform Anyone's Lifewill be released by Hay House in March, 2010.
"Michael's authentic approach and insightful concepts demystify 'conventional wisdom' and have enabled me to look at success in a completely different way. You can feel his positive, common sense way of addressing life gently seeping into your consciousness as you read his words." -Sacha Gervasi, screenwriter, 'The Terminal' and 'How to Marry a Millionaire'
"Direct and practical - Michael's presence makes taking on challenges fun. Do yourself a favor and read this book....It works!" -Egill Egilsson, Producer/Director CSI: Miami
"If Superman needed a coach, he'd hire Michael Neill." -Geoff Hinsley, Executive Coach
"Incredible know how; fantastic tools; results for all to see. Take a deep breath - your life is about to change for the better."-Sanjay Mehta, Head of Industry Solutions, Oracle Communications
Drawing on more than 20 years of working with professionals to dramatically improve their success, Steve Chandler and the "MindShift" he offers frees people from unnecessary pessimism and puts them back in touch with the source of their enthusiasm for work and life.

Although Steve Chandler graduated from the University of Arizona with a degree in Creative Writing and Political Science, and spent four years in the military studying language and psychological warfare; he credits his own life experiences with failure as the most valuable tools for helping others. Steve's audiences are inspired by stories of his "low points" – it gives them hope, because they realize that they are not nearly as bad off as he was – they figure if Steve can transform his life, so can they!

Steve Chandler is now the author of 20 books that have been translated into over 20 languages. His personal success coaching, public speaking and business consulting have been used by CEOs, top professionals, major universities, and over 30 Fortune 500 companies. He has twice won the national Audio of the Year award from King Features Syndicate. A popular guest on TV and radio talk shows, Steve Chandler has recently been called "the most powerful public speaker in America today."
"He's an insane combination of Jerry Seinfeld and Anthony Robbins. If you hear Steve Chandler speak your life will be forever changed." -Fred Knipe, Four-Time Emmy Award Winner/PBS

"Chandler just lights you up with the glow of his internal neon.... one of the funniest people I have ever heard, and yet so rock solid and so reassuring." -Lisa Schnebly, Arizona Republic