Concerts
A 2nd Evening of Stories and Songs
Benefit Concert for...
Brittany Schramm (Please read her story below)

Friday, August 3, 2012
Silent Auction & Meet and Greet with Brittany 6:45-7:30
Concert 7:30-9:00pm
Join us for an entertaining evening of hilarious, inspiring, insightful stories and
songs to go with them that will raise your spirits and leave you
feeling like you have just returned from a long, stress-free vacation!
Steve Chandler and Andrew McKee will take you on an entertaining journey up the ladder of human consciousness (and if you don't know what this is yet, you have to attend!)
Here's what people said about the 1st Evening of Stories and Songs...
"The music is still running through our minds... and I could hardly sleep for all that really uplifting energy we shared!" - Marian Sears, Fountain Hills, AZ
"I had the absolute privilege of flying out to Phoenix to see Steve Chandler

and Andrew McKee perform their evening of Songs and Stories. From the moment

it started, I was completely immersed in this magical musical journey they had prepared for us. The music was absolutely superb. I had the chills,

tears streaming down my face, and laughter in abundance. I was so touched by

the absolute authenticity of these master performers. They hold nothing

back. Their love of life infuses the music with so much energy- it's

absolutely contagious! I walked out overflowing with joy. Don't miss these

guys, they sing and play straight from the soul."
- Lisa Peake
All in support in Brittany Schramm and her family.
32 South Center Street
Mesa, AZ 85210
Recommended $20 dotation but may you contribute as much as you wish.
Any donation gets you a seat, but please understand and support the wonderful cause.
If you would like to donate to the Silent Auction please contact
Lynanne Cottle at bljbsl@yahoo.com or call 480-577-5677
Pre-Pay with PayPal or pay at the door.
Seating is limited. If paying at the door, please email

Andrew at
amckee1711@gmail.com for seat reservations.
(Please note that the PayPal account will show Andrew McKee amckee1711@gmail.com)
Brittany's Story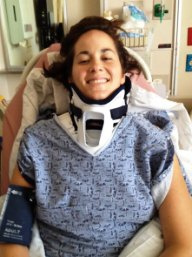 Brittany Schramm was a fun-loving, athletic wife and mother of 2 young children. On April 7th, 2012 she and her husband Jeff decided to head out on their mountain bikes and test out the trails in the popular Red Mountain area near their Mesa home. The day was beautiful and the ride was fun, until tragedy struck. Brittany hit a rock and was launched over her handlebars. She landed on her head cracking both her helmet and 4 bones in her back and neck instantly paralyzing her from the chest down. She was air-lifted to Scottsdale Osborne hospital where she endured 7 hours of surgery to repair the damage to her spine. Although the surgery was successful, Brittany's spinal cord remained badly bruised. After several days in the Neurological Intensive Care Unit, Brittany was moved to Barrows Neurological Institute to begin her long journey of physical therapy.

Brittany spent 7 weeks at Barrow's learning how to sit-up, roll-over, manage herself in a wheelchair, and generally learn how to handle her now paralyzed body. The days were long, and the therapy was often grueling, but Brittany remained strong and determined to learn as much as she could.

Brittany is now home with her family and is adjusting to life as a paraplegic. She is beginning to regain feeling in lower portions of her body and is optimistic that she will walk again. She is now faced with a new challenge. Her insurance plan offers no provisions for outpatient physical therapy, which means that for Brittany to continue therapy she will have to pay cash. Brittany is determined to walk again, with or without professional therapy, but is hopeful that with the proceeds from this concert she will be able to afford some type of therapy. She extends her love and gratitude for the donations already offered and the many prayers in her behalf.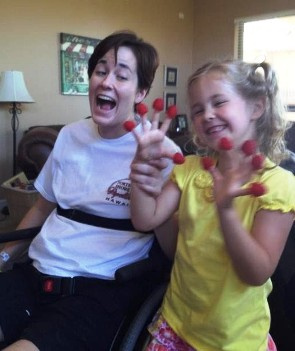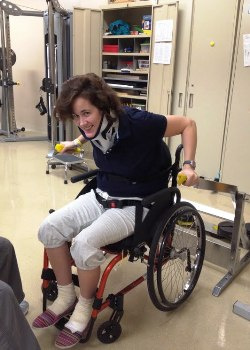 Thank You!